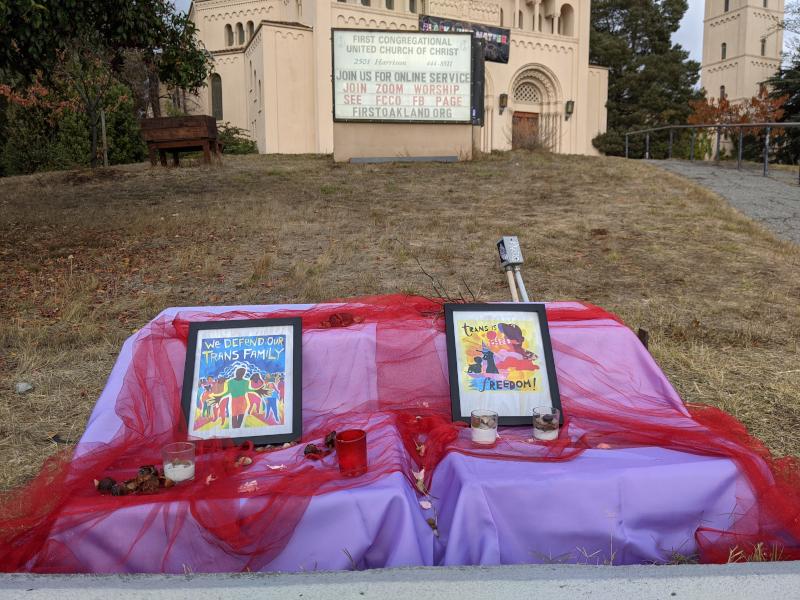 (Accompanying photo taken while on a long walk yesterday; it didn't occur to me until just now that it was there because of Trans Week of Awareness/Trans Day of Remembrance.)
It's been a while. I certainly thought I'd be blogging more during my sabbatical! But I'm alright with having not, since I've been writing plenty otherwise. Thanks to a good friend who has also been doubling down on their commitment to their writing, not only have I been doing a thrice-weekly writing workshop of sorts with them, but I'm also participating in NaNoWriMo for the first time! It didn't occur to me that NaNoWriMo would come complete with the sorts of things that I find especially motivating, like a statistics page and badges you win for getting to certain word counts or writing for a given number of days in a row. (I'm currently at 32,618 words and I've written for 15 days in a row!) I'm pretty excited about what I've written so far and about what I'm going to have to work with by the end of the month.
2020 continues to be A Whole Lot for Everyone. Pandemic hell continues to intensify and is now accompanied by this anxiety-inducing, nothing-ever-like-it presidential election limbo. Heaven, as usual, is hyper-local and eked out between projects and health situations and various forms of hard work, both novel and mundane. (There's no sabbatical from household chores!) Sabbatical does indeed continue to be rather heavenly despite the limitations imposed by the pandemic; frankly I can't imagine handling all the rest of this while also working. It will be quite something to return to work in January and see how everything fits together again or doesn't, in which case it'll be a matter of figuring out what stays and what gives. As another good friend suggested, this sabbatical is an opportunity for me to make enough room for the things that matter most; then, when I return to work, it will be a matter of figuring out how work fits around and alongside those prioritized practices and pursuits.
In the meantime I'm gonna continue to stay put in Oakland, despite sadness about not being with my mom and our other family for the holidays; imma keep on writing and reading and napping and playing piano, which is mostly what I do with my free time these days; and imma see what there is to see when the dust finally settles from this election and we see what it is we have to deal with for the coming days, weeks, months and/or years, whatever units of time we're dealing with by that point. (Right now it all feels very day-to-day in an oddly static, anticlimactic way.)